How to Pick Your Nearshoring Partner and Not Go Crazy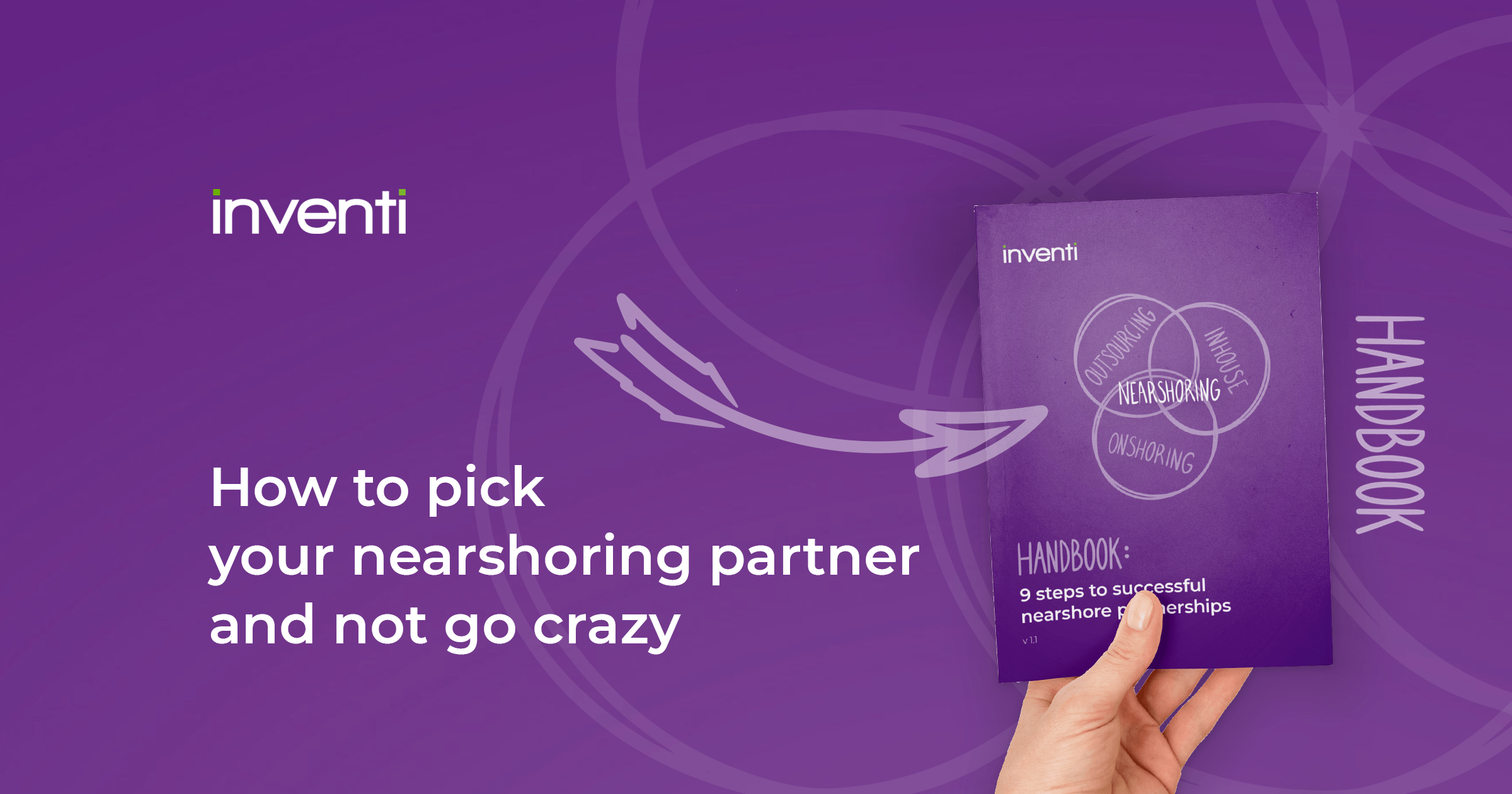 If you are considering nearshoring, but have jitters about the whole process of cooperating with a cross-border company, take it easy. This article is going to give you a guiding hand on what to look for in a successful partnership to accomplish your IT goals. Before all else, let's take a look at the basics.
Nearshoring 101
First of all, nearshoring is an increasingly popular form of outsourcing. The main difference between nearshoring and outsourcing is that nearshoring includes working with a partner whose country is +/– one time zone away. This stands in contrast to standard outsourcing which often involves partners from distant countries.
How to pick the best nearshoring partner?
Once you decide to nearshore your software project, what do you have to do to find the partner? The right nearshoring partner can be exhaustive to find, but you don't have to go far. We're bringing you these four tips to help you find your great match:
1. Don't settle for the basic decision criteria.
The absolute basic criteria that you have to consider include:
the proximity to your company,
the ability to communicate in the same language (alternatively in English),
excellent tech and business knowledge relevant to your project,
references, testimonials or portfolio,
cultural-fit and social alikeness,
total investment costs.
Although these are very important to consider when making a decision, there are many more that can help you identify the best fit for your company.
If you want to learn more about those and nearshoring in general, head over to our Handbook: 9 steps to a successful nearshoring partnerships. It includes insights from INVENTI's experts, our C-levels, Sales managers, and Delivery managers.
2. Find a partner that understands your business needs.
There's a big difference between a plain purchase of external capacities and an equal partner that provides you with in-depth tech-solutions to fit your needs. First of all, introduce your needs including objectives, timescope, the roles in the partnership, what each of these things mean to your company and the partner, and the consequences of potential failure.
Once a mutual understanding is established, the partner should propose their own solutions to achieve the set objectives.If you compare their solutions with yours, you might gain a new perspective on possible needs and end-goals.
3. Safety and transparency is a must.
Honesty, safety and transparency are, without a doubt, essential elements of all successful partnerships. Petr Háka, our CEO, says in our handbook: "Thankfully, in case of nearshoring, it's not difficult to find out whether the potential partner values transparency above everything. The best way you can do this is by visiting them in their office." (source) This will help you to assess the situation right on the partner's base. As mentioned above, proximity is one of the most commonly sought after criteria.
COVID-19 has accelerated digitalization and made many of us rethink our business strategies. The ease with which you can integrate your newly nearshored team members is crucial to a smooth delivery of your project.
Why does this all matter? The key word is transparency. Collaboration tools offer extra layers of communication and transparency of the work being done. Many international companies have started using Zoom, Slack or even Discord during the lockdown.
"Thankfully, in case of nearshoring, it's not difficult to find out whether the potential partner values transparency above everything. The best way you can do this is by visiting them in their office"
Petr Háka
– CEO INVENTI –
4. Reap the benefits of diverse competition.
Nearshoring is no longer a new concept. It has solidified its position as a valuable business strategy for decades to come. The pandemic in particular has made the advantages more clear. Enjoy that you don't need to tie the knot with one supplier but on the contrary, you can diversify your supply chain and benefit from healthy competitiveness.
Curious about trends regarding diversification and sourcing of your supply chain to protect your businesses? INVENTI's got you covered in a deeper dive blog about the top three trends/criteria influencing the global sourcing strategy.
Key takeaways
Nearshoring is a practice of outsourcing your business projects to a nearby country without sacrificing the quality.
You should consider a wider range of decision criteria than just costs, proximity, language, references and cultural similarities.
The ideal partner is going to make an effort to get to know your business needs and provide you with their own unique solutions to them.
As a result of the COVID-19 pandemic, companies have integrated collaborative tools that add extra layers of transparency and safety for both parties when working in a nearshoring partnership.
Healthy competition among the suppliers can result in an increased quality of services and improved risk management.
Enjoy a full take on how to get the right nearshoring partner in 9 simple steps with INVENTI's handbook. The information contained include:
What is nearshoring is and if it is right for you.
What to look for in the nearshore partner.
Insights from INVENTI's experts.
The overall strategy of approaching partnership.
Download NOW using the link below.
Handbook:
9 steps to successful
nearshoring partnerships
In 9 simple steps find out how to maintain the right nearshoring partner that can fully support your digital innovation and smart resourcing.
9 steps to successful
nearshoring partnerships
In 9 simple steps find out how to maintain the right nearshoring partner