Leading a Team From a Beach or Mountains? Why Not! It's About the People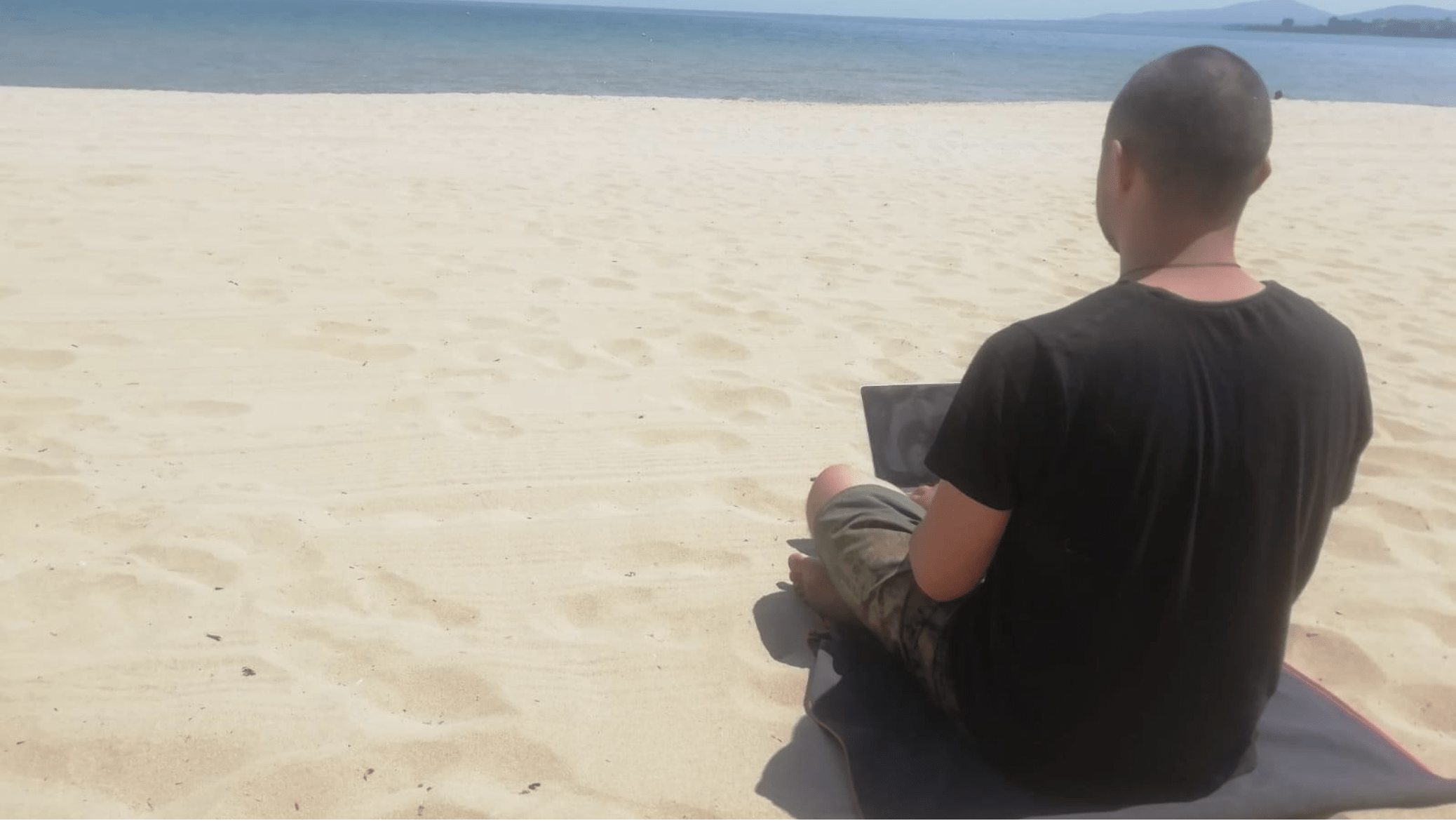 Time management and a great team
are essential
When planning the whole trip, I had one question in mind: "How am I going to manage my work?" For a long time, I kept thinking about it and came up with different scenarios of how it could work. The first option and idea, that seemed simple, was that I would like to work full time during the trip. I'd get up around 7:00 am, go online, and wrap things up no later than by 3:00 pm. If it was possible, I could also work in two work blocks, e.g. 7:00–11:00 am and 5:00–9:00pm. However, then the everyday reality of a traveler starts creeping in. I'm talking about moving between places, finding places to sleep, unexpected events, connecting to electricity, visiting interesting places and, last but not least, the availability of colleagues and customers.
So another solution had to be found. I created a schedule of the day in which I gradually added up all the activities during the day. After a while it became clear that a reasonable setup would be 4 hours of work a day. Since I am in charge of the testing competence at INVENTI, it was most appropriate to set the availability to mornings and afternoons alternating throughout the week. Of course, this was also influenced quite a lot by the already established meetings with other colleagues. The result is:
Monday 8:00 am–12:30 pm
Tuesday 12:30 pm–17:00 pm
Wednesday 8:00 am–12:30 pm
Thursday 7:45 am–12:15 pm
Friday 8:00 am–11:00 am
In addition to these time blocks, the colleagues know that they can call me or text me and I will respond as soon as possible. Everything is flexible, but we do our best to keep it that way. If there is a need for me to be available all day, we have a "give two days' notice" rule.
To make sure the company knew that I could handle the Head of Testing role part-time, I had started doing this six months before I left. We used the other half of the time on one of our projects. Of course, it's not quite possible to fit 8 hours of work into a half. So we started to build more team leaders in my team, to whom some activities were dedicated. In retrospect, I consider this a great decision. On one hand, these colleagues have made great strides, discovered new possibilities and skills, and at the same time, it has brought important substitutability. The pandemic situation, where most of the work has moved to the online world for a year, has also helped a lot.
We set the rules of cooperation in advance, not only with the leaders and management, but also with my colleagues on the project. These include, for example, regular weekly synchronization meetings with an emphasis on sharing updates and information. We have set up a group in a communication tool to share information. I send a regular newsletter to the team to let them know what is currently being addressed. We learned to prioritize each topic and choose the communication channel and "response time" accordingly. So, we don't necessarily address everything right away or send an email, but we make more use of short online calls or instant messaging. Each week we share who's working on what, who can help who and most importantly, we keep each other informed of how the situation is developing. On the other hand, I always plan ahead where I will be so that I have peace and quiet to work and a good enough connection.
How does everything work in reality?
From my point of view, I could sum it up in one word – great! I can rely on my entire team and I am really grateful for that. I am currently writing this article from Perla beach (Primorsko, Bulgaria) and I don't feel that my team, colleagues from sales, HR, marketing or customers have felt a change for the worse.
If a new potential colleague needs to be interviewed, I sit in a quiet place by my car or right in it. We talk on webcam and use online tools for any practical tasks. Afterwards, I'll have a call with my HR colleague to discuss the feedback. This is how we are able to expand the testing team in a quality way. The subsequent onboarding or training is then taken care of by one of the leaders, with whom we agree on everything necessary in advance.
In terms of business matters, such as writing an offer to a customer, the actual meeting with the customer or dealing with unexpected events, we need to be more creative. However, we also manage to solve this. Instead of meeting colleagues in the office or over coffee, we simply make a video call. In the case of proposal writing, this sometimes involves working evenings or paying for a hotel. I try to put everything on my calendar so that not only me, but also my colleagues know what my availability is.
I've had to deal with a few less pleasant situations over the last month. Yes, sometimes I was driving or climbing mountains when my phone rang. However, this is also part of it. Sometimes it can be resolved within ten minutes, other times it takes an agreement to call each other in, say, an hour when I'm in a quiet place. The helpfulness of all my colleagues at INVENTI helps me a lot in such situations. Whether it is in the organization of working time or the effort to always help me. This also applies to my leaders, for whom I think it is not always easy. They are involved in projects themselves, and because some things have to be dealt with personally, they get into completely new situations that they have to deal with. On the other hand, they know they can call me anytime and are not alone in this.
Last but not least, I would like to say a big thank you to the whole INVENTI, which allowed me to fulfill my childhood dream of traveling and working at the same time. Concurrently, we have also arranged for me to come once every two months for about a week each time. Why, you ask? I'm a big fan of working remotely, but I also think that face-to-face contact is irreplaceable. Even more so when you want your team of more than 35 people to work perfectly all the time and to be absolutely helpful to your other colleagues in the company as well.
I like everything to be clear. That's why I also conclude with the most important points that allowed me to work remotely.
The key is to have a solid, effective team.
Quality connection – in almost every country in the world, you can buy a local SIM card with a data package.
Good preparation, leave nothing to chance.
Try it out first before you go full remote.
Don't be afraid to improvise and look for solutions.